Discover more from I Have Thoughts
Writing. Feminism. Social Justice. You know--the fun stuff!
As people react in anger and despair to the ongoing racist attacks against Black people in the U.S. and Canada, sharing a newsletter of writing tips seems…inconsequential. I thought about not publishing this week. And I'm not going to take up space with my own thoughts about what is happening: there are many others whose lived experience and analysis makes them far more qualified than me to speak on these issues. I did decide to proceed with the newsletter for one simple reason: the fascists, wannabe-dictators and racists want artists, creators and writers to be silent. Maintaining our connections, supporting each other, is one way to ensure that, in the long run, these forces of darkness won't silence people of good will. It's not much, but it's something.
Know someone who might be interested in this newsletter? Please share it.
Want to share this post in particular? Click this button.
Craft: Staying focused
There comes a point in every piece of writing where I feel the deep and urgent need to walk away. It's usually the surest signal that I shouldn't, because the urge to diverge is often a signal that I'm circling some tough stuff, wrestling with an idea or an insight that challenges my thinking or feels risky because I'm afraid of what others will think of it, or of me for writing it. And in those moments, anything at all can become a compelling distraction: reorganizing my bookshelves, cleaning out old files, tidying up my computer desktop. Hey, isn't it time to run a virus check on my hard drive? I should call that old friend I haven't spoken to in years. You know, I should get a chest freezer—then we could order a side of beef from a local farmer. I wonder which local farmers sell sides of beef?
You get the picture.
But the challenging thing is that sometimes it's hard to tell a waste-of-time distraction from a hey-go-take-a-walk-and-let-your-back-brain-chew-this-over urge.
My answer to building the ability to focus on writing isn't completely satisfying, but here it is: structure helps. At the King's MFA winter residency in New York in 2019, New Yorker writer Adam Gopnik shared with us that he carves out every morning, every day—including holidays—to write. His aim, he says, is to be at his desk working from 8 am until about noon. The rest of the day is open for other things, but mornings are for writing.
I haven't managed to match Gopnik's level of boundary setting and focus, but I'm working on it. Having structure in my workday and my work week makes a difference, because it removes choice from the equation. I don't have to decide to sit down and write—there are just times of the day, times of the week, when I am writing. I'm not perfect at this by any means, and the pressures of other work can impinge on my writing time, but I'm getting better at pushing back. And even if, on a particular day, 15 minutes is all I can carve out—that's still 15 minutes that didn't get eaten up by something else.
So, first step: book time to write.
The second step: accountability. Ugh. I know. Sounds very counter-creative. But for me, having someone to whom I am accountable makes a difference. As we've been holding pre-summer residency online meetings with returning and incoming MFA students, one after another has said how much they are looking forward to the accountability imposed by the program. But you don't have to take an MFA to write a book, and it certainly isn't the only way to add accountability to your writing practice. It can be as simple as doing a weekly check-in with a friend or colleague. You don't even have to share what you've written with them: you can simply list what your goals are for the week and check in to (honestly) tally what you've gotten done at the end of the week.
Third step: break it down. Don't focus on writing a book—or, at the beginning, even on writing a chapter. Focus on writing 500 words. Or 200 words. Then another 200. And another. Come up with a way to make your progress visible to you: add a coloured bead to a jar for every block of words completed. Give yourself gold stars. Mark an X on your calendar.
Fourth: impose a deadline. I know: Ugh #2. But it really does help. Find a competition you want to submit to, or impose a deadline by which you'd like to submit your work for review. Make that date your goal line.
Ok, so that's a plan. But what about the things that throw us off plan? I've been thinking about these a lot lately, and to me, they fall into three categories: distractions, subversions and things that we genuinely need to attend to.
First, distractions—and distractors. I think of distractions as the stuff we turn to when we're trying to avoid doing the work we're meant to do. For me, distractions are the manifestation of insecurity—if I fart-arse around (that's the technical term for it) wasting time on Facebook or bingeing on Netflix, or decide that right now is the time that I absolutely need to organize my closets, it's often my self-sabotaging self stepping in to give me an excuse for not really achieving what I want to. What I avoid writing can't be judged.
Then there are the distractors: the people who seek to steal our attention. These are the buzzing insects—from the tiny no-seeums to the flesh-eating deer flies—that hover, swoop and sting as they try to divert our efforts and waste our time. It might be a social media troll. It may be that colleague who bombards you with emails about things that don't matter. The thing about these little fuckers is that, to them, your attention—the equivalent of that tiny drop of blood sucked up through a mosquito's proboscis—is their nourishment. Any little bit of you that they can steal away keeps them alive for another day. In the moment, focusing all of your attention on swatting at these attention suckers seems worthwhile—if I can just squash that bug, I'll be able to focus!—but in the end, there's always another and another and another.
Harder to deal with—for me at least—are the subversions and subverters. In general, I'm in favour of subversion—especially in the sense of artists, comedians, writers and others whose work is geared to subverting the "established order" or questioning accepted wisdom. On a personal basis though, subversions can be things that undermine our confidence or cause us to question the value of our work. Again, a qualification is in order here: we should question ourselves, and overconfidence (Dunning-Kruger Effect, anyone?) is a scourge. But for women and anyone who is marginalized, there are also powerful societal forces and systemic structures geared to subverting the efforts and work of anyone who steps outside the accepted "norms."
And then there are the subverters themselves: some of them are obvious (the jealous frenemy) and easy to dismiss. The tougher ones for me (and again, your experience may be different) are what I would call the subversive double agents. These are the folks who are always ready to whisper in your ear about how worried they are about you—are you sure you can really cope with the work on your plate? Should you really be taking this job, this work, this opportunity on—after all, it would be awful if you weren't able to do it as well as you'd like to! If one assumes best intentions, these people are the equivalent of helicopter parents—focused on protection when building strength and resilience through appropriate risk-taking would be a better strategy. And not all are well-intentioned: where distractors suck up droplets of your creative blood, some subverters sidle up to you, seduce you with concern and "I'm only thinking of you" language—and latch on like the emotional vampires that they are, leaving you a pint or two low on confidence and motivation before you realize they've broken skin. I'll be honest: I'm still working through how to deal with these ones. A slow exit from the relationship has been my usual modus operandi, but as I get older and less patient, I'm finding that I resent the wasted time that a measured departure requires. (Advice on dealing with subverters welcomed!)
So, two categories of stuff worth avoiding/ignoring. But how do we tell those categories from the things that might look like distractions, but to which in fact attention should be paid? I'm still parsing this, but I think it comes down to ego involvement: both distractions and subversions involve ego discomfort, prompting questions like "Am I good enough? Am I worthy? Do I deserve…?" and so on. But the things—and people—that are worthy of a genuine pause in our work prompt deeper questions, I think, about the ethical and moral implications of our work, about our responsibilities towards others and our communities. Sometimes the "answer" to these worthwhile blocks or pauses isn't an answer at all: it's to register the question, keep writing, and circle back to the question again and again as we continue to work things through on the page.
Exercises
Pest control: Just as itchiness can signal mosquito bites, emotional irritation and impatience can signal a reaction to distractions and subversions. There used to be a TV ad for bug spray that showed someone sticking their arms into two glass tanks full of mosquitoes, with one arm sprayed with repellent and the other arm bare. I just remember thinking "Don't stick your arms in the tanks." Are you sticking your arm in a tank full of gnats? Maybe it's Twitter. Maybe it's a group of old friends who consistently undermine you. Sure, you could spray on a layer of battle-ready bug spray. Or you could just stop sticking your arm in that tank. Come up with a metaphor that works for you: What does exposure to your most irritating distractions remind you of? Describe it on the page. Within that metaphor, what strategies would work in battling or avoiding the situation? Describe them on the page. Can you translate those strategies out of the metaphor and into real-life?
Write through: While it may be tempting to try to power through and ignore distractions and subversions, Julia Cameron, author of The Artist's Way, counsels simply giving them voice: write them onto the page, giving them free rein until they just tire themselves out. Buzzing in our ear, they can seem powerful and compelling. Written onto the page, they more often just look…pointless, petty, small. It's also worth asking "Whose voice are you hearing?" Is it that second-grade teacher who accused you of plagiarism because someone like you couldn't have written something like that? Is it an insecure, angry or abusive parental voice? Listen to who's speaking, and decide whether this is the person who should be controlling your creativity. Get your buzzing voices onto the page, and identify them by name. Craft a full scene with them—not with you, but with your BFF or most ardent supporter defending you and your work.
What I Should be Reading Next
Yes, this section is usually called "What I'm Reading Now." But I'm just surfacing from the land of Brightspace learning platform FAQs as we launch our online residency, and I'm heading into nine days with our MFA students starting on Saturday…so recreational reading has been non-existent for a while. I'm restocking my shelf, though, so would love your recommendations. Three things I just ordered from the King's Co-op Bookstore: Square Haunting: Five Writers in London Between the Wars by Francesca Wade; a collection called Women Crime Writers: 8 Suspense Novels of the 1940s and 1950s edited by Sarah Weinman; and The Hainish Novels and Stories by Ursula K. LeGuin. All pure enjoyment. Give us your suggestions for what we should dive into this summer: post a recommendation or two or five in the comments section.
Other Good Stuff
Read: Always worth reading: Ibram X. Kendi in The Atlantic, "This American Nightmare."
Watch: Nina Simone singing Mississippi Goddam.
Released on her 1964 album. As horribly relevant today as 56 years ago. (Some background on the song here. )
Listen: I read Lindy West's essay collection Shrill when it first came out, and have delighted in the television series it inspired. One of the essays in that collection also inspired a This American Life segment: Ask Not For Whom the Bell Trolls; It Trolls for Thee. Worth a listen.
Book industry stuff
Courses, communities & stuff
Have communities or courses you'd recommend? Share them in the comments.
Tweets & stuff
Not just beetles.
One way to help.
Exactly.
Obligatory photo of Buddy
Buddy says "It's ok to be tired."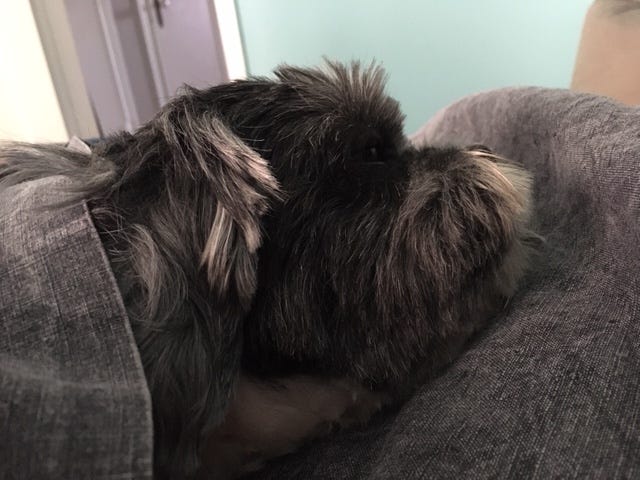 The stuff at the bottom
I'm a writer, editor and teacher. This is my personal e-newsletter on the craft of writing nonfiction, sprinkled with occasional feminism and social justice. You can find out more about me on my website at kimpittaway.com. You can also find me on Facebook and Twitter. I'm the executive director of the MFA in Creative Nonfiction limited residency program at the University of King's College in Halifax, Nova Scotia, Canada. If you're interested in writing a nonfiction book, you should check our program out!
And finally
Share your online course and community recommendations, links to cool things writers and others are doing to get through all of this and whatever else strikes you in the comments section of the web version of this post.